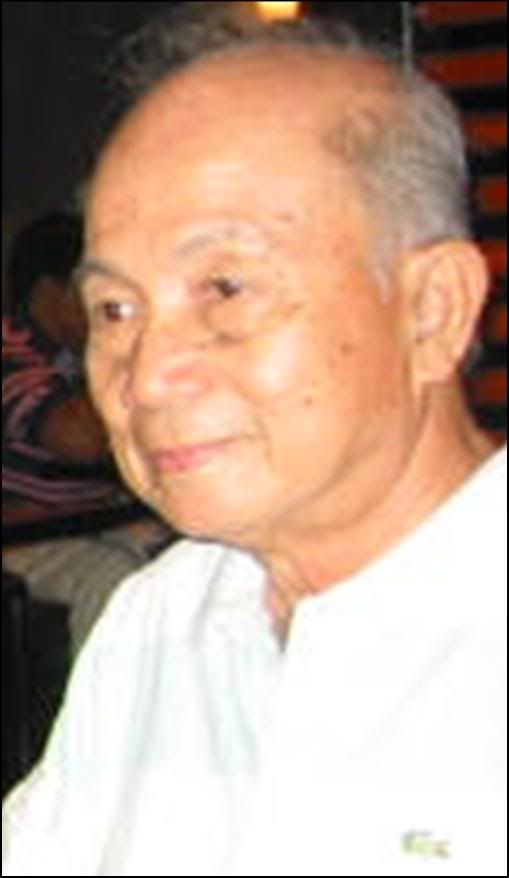 ONESIMO SALAZAR (LIM) BAÑARES - 1929 - 2004
Today, March 2, 2005 is the first death anniversary of my father, Atty. Onesimo Salazar (Lim) Bañares. He was born February 16, 1929 in Tinocauan, Albay. He studied elementary in Tabaco City and Bacacay. He then went to Manila to study at the Cosmopolitan College in Sta. Cruz. He took pre-law and law at the Manuel L. Quezon University and Quiapo. He worked as legal Officer of Mantrade Philippines before transferring to First United Bank under Don Jose "Pepe" Cojuangco. He later went on to become the head of the legal department of United Coconut Planters Bank. When he retired in 1983, he put up his own private law practice, specializing in labor and land law. For a time, he partnered with two brilliant lawyers namely former Judge David Libongco and former Senator Francisco "Comong" Sumulong. He was diagnosed with lung cancer in July 2003. He was in and out of the hospital bewtween November to Febraury of 2004. He passed away March 2, 2004, less than a month after his 75th and last birthday.
-------------------------------------------------------------------------------------------------------------------------------------------------------------------------
What i remember most about my father are our conversations inside the family car. That thirty or so minutes from the house to the office was enough time for us to share each other's ideas of the latest events in politics, the family and any other topic of our choosing. Our conversations became longer when he had water from his lungs removed, which meant i had to drive him from the house to the courts and back again. It was inside the car during our drives that we bonded, and we were able to discuss things about life and the future. In October of 2003, during one of the last hearings he would be able to attend, he talked to me about how he was content about his life and that one thing i should never have are regrets. He told me that the past is the past and that instead of lookking back frequently, we should set our eyes to the future. This were his words of wisdom to me. I think he knew he was dying, for i am sure he felt his body growing weaker as days progressed. My father and i don't often agree on anything, but the precious conversation time inside the car got me to know my father better than most of my siblings. Things are not the same without my father, for as i drive myself to work, i long for our conversations, the witty repartee, the eschange of ideas, the anecdotes about family members and any topic under the sun. I console myself with the fact that though it may seem that i have an empty void in my heart because he is gone, he is never truly gone from my heart. Papa, I miss you and i love you.