This summer, my siblings invited me, my sister and friends to spend summer vacation in Baguio. My friends, sister and I converged at Jacky G.'s place in Sanville QC and from there Poppo, Jacky, Zach, Ater Rosae, Aubrey and Noel proceeded to the Summer Homes of Meralco. We stopped to have breakfast at May Farms in Tarlac. We arrived in Baguio around lunch time via Marcos Highway. The guys (Poppo, Noel and I) immediately went to Baguio City Market to buy food which we will cook for our group. We whipped up a sumptuous dinner of barbequed chicken, sinigang na kambing and tuna pasta in tomato sauce with capers. After dinner, we played several rounds of Texas Holdem poker, after which the
others went on to play "in between". The next day, we prepared a breakfast of daing na bangus and longgansiang baguio. The guys spent the morning searching for fresh veggies which took us to La Trinidad Valley as the girls repared for our afternoon "pasyalan". For luncht hat day Poppo made a delicious Nilagang Baka and (again) chicken barbeque (what can we say, we had lots of charcoal and chicken!!!). That night, we had dinner witht eh family of Ate Ruth and Kuya Vic at Atenara Restaurant, a cozy, out-of-the-way eat all you can pasta and steak buffet). The next day, before heading tback to the hustle and bustle of Manila, Ate Ruth and Kuya Vic invited us to have breakfast with their family at the Baguio Country Club. From Baguio, we proceeded to my mother's hometown of Aringay, La Union where we had a filling lunch of inihaw na tilapia, inihaw na baboy, talaba, dinardaraan, fresh shrimps and veggies! Truly, trhat trip will be etched in our barkada's memories!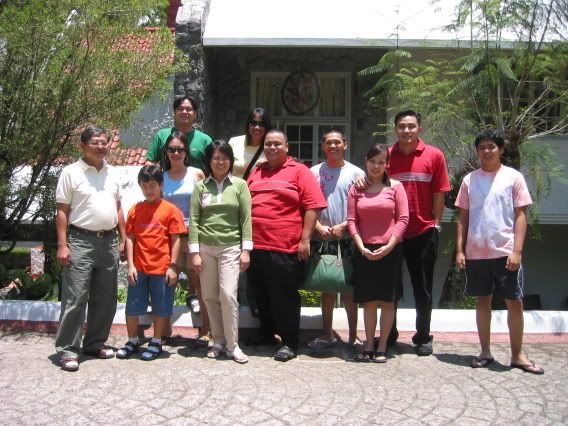 The group infront of the Merlaco Summer House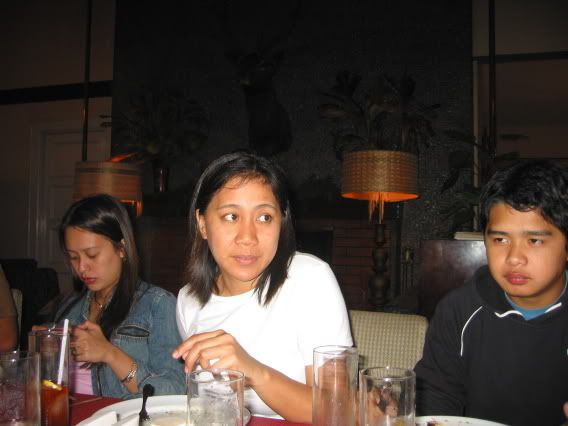 GALIT-GALIT MUNA: Seriously enjoying the food at Atenara's.
L-R: Jackie G., Ate Rose and Lee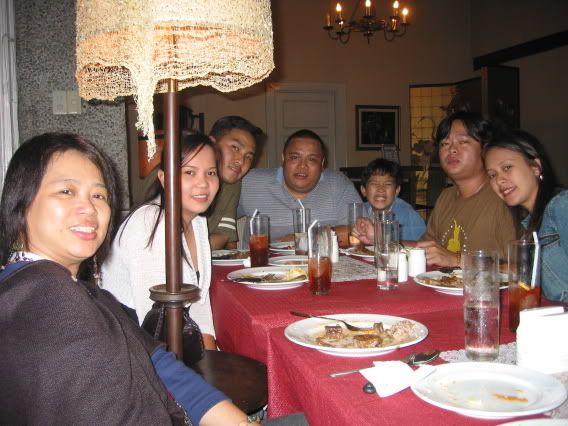 L-R: My sister Ruth, Aubrey, Noel, Yours truly, Zach, Poppo and Jhackie.