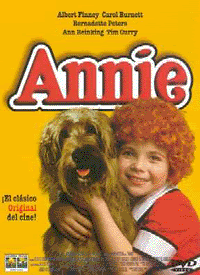 i have been searching for a clear dvd copy of the musical Annie for the past two years. Yesterday, as i drove my sister Ruth to the World Trade Center for the International Book Fair, i decided to go to Harrison Plaza's National Bookstore to check the latest PB Book. I passed by their DVD section and decided to have a look -- and lo and behold - a DVD copy of Annie (the original, not the Disney remake) was on the rack, and it was on sale! I didn't hesitate to grab the copy and proceed to the cashier to make the sale official.

The original Annie is really a gem of a find. I asked my brother Ben, an expert in the Quiapo DVD district, to search for a copy, to no avail. I even went so far as to look for old VHS tapes which i can buy and have transferred to CD but still no luck.

Aileen Quinn's role as Annie was well picked. she's an adorable little girl who fits the role of Annie real well. You might even say she was born for the part. Also noteworthy are the performances of Albert Finney, Tim Curry and Carol Burnett as the memorable Miss Hannigan.

The songs too are classic. Who could ever forget the scene at the White House when Annie, FDR and Oliver Warbucks sang "Tomorrow"? Or the song "It's a hard knock life"?

This truly is a must see for kids and adults alike.